Here at theeeverydayfan.com, we like to give our fans the best waiver wire pickups. Talk about who's hot now, and why you cannot let them sit on the waiver wire much longer!
Below are the week 6 hot picks for fantasy owners whether your 5-0 or feeling the pain of mounting injuries. It's time to start working on keeping your winning record into the second half of the season.
Andy Dalton is the perfect back up and the best in the NFL. What a genius move to acquire him in the off-season. Refer to my recent article link https://theeverydayfan.com/2020/10/13/why-andy-dalton-is-the-perfect-back-up-for-the-cowboys/ of why you should not let him set on the waiver wire for too long.
Ryan Fitzpatrick
Ryan Fitzpatrick had an amazing week on the field against the 49ers last week (28/22/79%/350/3/0). Most Ryan Fitzpatrick owners chose to sit him due to how bad the match-up looked on paper. Despite the early calls in off-season camp to start Tua Tagovailoa. The Dolphins sticking with Ryan Fitzpatrick was the best idea.
This Year Ryan Fitzpatrick has recorded over twenty-five points in three of the five weeks. (weeks 2, 3, and 5). When starting with the Bucs in 2018 and Dolphins in 2019 replacing Josh Rosen as starter threw for thirty-seven TDs (also twenty-five interceptions). This proves whenever Ryan Fitzpatrick is on the field there is a chance of TDs. 14 multiple TD games in 28 games played in his last two seasons plus five games this season. The Jets match up in week 6 is a golden opportunity to start him in two QB or deep leagues.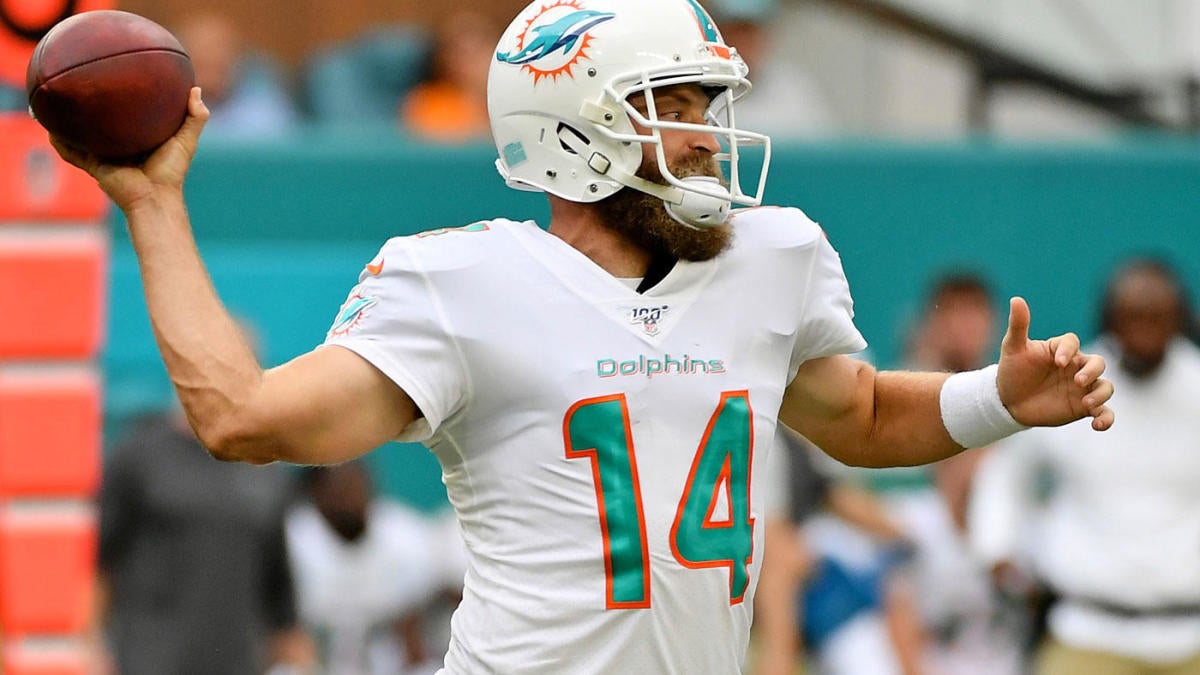 Justin Herbert should not be 0-4! Herbert has a bye week (week 6). Week 7 and 8 are winnable games against the Jaguars (giving up 30+ every game since week 3). And the Broncos (take out the 37-28 win over the Jets have only averaging 15 points offense points per game).
Justin Herbert over the last two weeks has thrown for seven touchdowns and only one interception. Giving fantasy owners weeks of twenty-nine and thirty-five points against the Bucs and the Saints. He is a must a start in deep leagues and two QB leagues!
RB
Alexander Mattison recorded a stat line of 20/112/0 when Dalvin Cook exited against the Seahawks in week 5 with a groin injury.
Mattison offers a perfect handcuff for Dalvin Cook owners. Especially in deep leagues as his snaps played have increased. From 23 percent to 32 percent from 2019 to 2020 and his attempts per game 7.7 to 8.8)
If Dalvin Cooks misses any time. Alexander Mattison would be a strong plug and play. A low-end RB3 fantasy value with the Vikings averaging thirty rush attempts compared to twenty seven pass attempts over the first five games.
Last year Alexander Mattison finished with 100/462/1 and this year he is on for 141/701/3. The match-ups of the Atlanta Falcons week 6 and the Packers week 8. They offer two teams conceding twenty-five and thirty-two points and one rushing TD per game. The packers only giving up 84.6 yards on the ground compared to the Falcons 110. This makes Alexander Mattison a stash player to call upon in deep leagues when Dalvin Cook misses time or you need an RB3 due to bye weeks or injuries.
Chase Edmonds
Kenyan Drake has not got off the best start in 2020. Considering he would have been drafted within the first ten to fifteen RB's. This year only averaging 17/62.8/0.4 and reading further into this since joining the Cardinals via a trade in the 2019 season. His first eight games he compiled 410 of his 637 rushing yards in three games (110,137,166).
Chase Edmonds in 2019 posted 60/303/4 on the ground (126 on these yards came in week 7). And 21/12/105 in the passing game. Already in 2020 he had nineteen carries and twenty-three receiving targets and is on for 60/304/3 and 74/413/0.
Chase Edmonds is a stash as could see an increased workload over the coming weeks. Kenyan Drake continues to disappoint. The Cowboys and Seahawks are the next opponents. With both teams averaging thirty-two and thirty-four offense points per game (Cardinals 25 points). Chase Edmonds catching ability will have to be utilized to stay in the games.
WR
Nelson Agholor in the past three weeks has been targeted nine times. He caught eight of them for one hundred and forty-three yards and two TDs. Nelson Agholor has had catching issues throughout his Eagles career with 66 percent and 56 percent catch rates in 2018 and 2019. (64 of 97 2018 and 39 of 69 2019). This year he is ten of eleven (91%) with his TD upside as Derek Carr continues to complete 70 percent-plus of his passes every week. This only makes him a must stash in deeper leagues.
Derek Carr has thrown for multiple TD's in week 2, three, four, and five (10 TDs to one interception averaging 2.2 TDs per game). So as long as this form continues and he remains to get three to five targets weekly. He provides low-end WR3 fantasy value throughout the season. Great Waiver wire pickup.
The match-ups of the Bucs and Browns will be tough challenges. Both teams giving up 2,681 receiving yards. Giving up 19 passing TDs, and getting 12 interceptions. So expect Nelson Agholor to be involved to keep the ball moving down the field. If he is there a wavier wire gem
Chase Claypool had a game in week 5 against the Eagles (11/7/10/3 and 3/6/1) but prior to that was 9/6/151/1. Claypool has benefited from Dionate Johnson leaving the field in both weeks 4 and 5 due to a big hit/concussion protocol. And a back injury. Seeing his snaps played going from 48 percent week 1 to 4 to .69 percent in week 5. A great waiver wire find.
Will Chase Claypool get you three receiving TDs every week NO! But he has definitely WR3A or WR3B with James Washington. Both are averaging 5/3.3/65 and 5/3.3/29.3 with Chase Claypool having more TD upside. As long as Dionate Johnson continues to suffer from his back injury Chase Claypool will benefit from increased targets. Dionate Johnson 23/14/149/1 through weeks 1 and 2. So a great flex in 10+ team leagues.
The Steeler's face the Browns and Titans next. The Browns giving up twelve passing TDs making Chase Claypool a strong high-end WR3'/low-end WR2 fantasy play week 6, week 7. Against the Titans will be tougher with a ratio of seven TDs to four interceptions.
Preston Williams prior to his season ending injury in week 9 last year had seven games of six or six plus targets. And four games of over sixty receiving yards. the 2020 season has been slow the first four weeks but week 5 he produced 5/4/106/1 for 18.6 fantasy points.
This will be his spring board as he continues to re-discover his chemistry with Ryan Fitzpatrick. The next two match-ups are the Jets and the Rams (bye week in week 7). The Jets in week 6 only average 15 offense points per game. With the Dolphins twenty seven so Preston Williams should be good for a double digit fantasy week. Week 8 against the Rams on the other hand will be much tougher. Only giving up one hundred and ninety seven passing yards per game. and a ratio of five passing TD's to four interceptions.
Laviska Shenault Jr./strong>
Laviksa Shenault Jr when he was drafted by the Jags joined a crowded receiving core with DJ Chark, Chris Conley, Keelan Cole and Dede Westbrook, add to this the off-season acquisition of Tyler Eifert making it a tough task for the rookie to make an impact his year.
He has surprised many with just how involved he has become posting 28/23/270/1 equal targets to Keelan Cole, as DJ Chalk ( missed week 3, left the field week 5 due to injury week 5 and questionable week 6 against the Lions) Presently both Laviksa Shenault Jr and Keelan Cole have 14% target share each, followed by Chris Conley 11% and DJ Chark 10%.
Gardiner Minshew in 2020 has improved his pass completions to 70% compared to 61% last year and attempts from 33.6 to 39.2 per game, he is projected for 4,604.8/32/13 this year at his current game average (24.7/39.2/70%/287.8/2/0.8)
The Lions and Chargers match ups are both tough only giving up one hundred and eighty eight yards and two hundred and seventy three yards passing, but surprisingly despite both conceding nine passing TDs each, the Lions only give up sixteen pass completions per game compared to the Chargers with twenty seven. Another waiver wire.
TE
Robert Tonyan
Robert Tonyan in week 3 and 4 (bye week was week 5) caught all of his eleven targets for one hundred and forty eight yards and four TDs.
Jimmy Graham last year averaged 3.8/2.4/27.9 last year as Bears, Robert Tonyan is on for 56/53/693/20.8 this year (20.8 TDs not happening!) so this makes him a low end TE1/high end TE2 for the rest of the season.
The Buccaneers and Texans are the Packers opponents in week 6 and 7, As we know the Buccaneers and Texans are hard to pass on combining to give up sixteen Passing TDs, but have eleven interceptions in the first five weeks. These tough match-ups make Robert Tonyan vital to the Packers keeping the downs coming, especially if Devante Adams continues to miss time or his impact is limited with his hamstring injury. Waiver wire
Austin Hooper in the last two weeks has received seventeen targets catching teen of them for ninety one yards (25% target share in pass attempts and completions)
His stats are down from 2019 when he played for the Falcons in the first five games for the Browns (7.5/5.8/60.5/0.5 TDs per game to 5.4/3.4/30.6/0.2) but he is steadily seeing more involvement in the passing game.
With the Browns facing the Steelers and Bengals in week 6 and 7 and both being hard to score passing TDs on (ratio of 15 TDS to 11 interceptions) Austin Hooper will be called upon to bring the form and pass catching ability which saw him targeted ninety seven times last year recording seven hundred and eight seven yards and six TDs.
Cameron Brate
With O J Howard out for the season (19/11/146/2 throughout the first four games) Cameron Brate now has the chance to make an impact in the Buccaneers passing game. Many forget last year he was targeted fifty six times, catching thirty six passes for three hundred and eleven yards (Four TDs). Waiver wire gem.
Rob Gronkowski is no longer the elite TE he once was throughout the 2014-2017 seasons where he logged 390/248/3,924/34. So Cameron Brate if he can build some chemistry with Tom Brady would be a low end TE2/high end TE3 for the rest of season with TD upside. The Buccaneers face the Packers and Raiders in Week 6 and 7 the most yards given up to a TE by both teams is sixty two for the Packers and the Raiders one hundred and eight.
Get more great content at the Every Day Fan Sports