In Everton's opening six matches, the boss – Carlo Ancelotti made a statement of intent by fielding Colombian star player – James Rodriguez from minute 1, to 90.
Everton's troubles in midfield.
The midfield sets the tempo and tone aside. Players in the midfield need to be in the place to transition the ball forward and keep the tone flowing, but also in the right places to defend and drop back. Something which Everton lacked in the 2019/20 season with the likes of Fabian Delph, Gylfi Sigurdsson, and Morgan Schneiderlin. They were often caught out by opposition due to the lack of speed and dynamism in the midfield.
This season, the arrival of three marquee signings led to the change of play from Everton. Having played the last season with a 3-5-2 formation, they now deployed the 4-3-3. The Everton 4-3-3 is not as plain as it sounds, due to the tactical flexibility Carlo Ancelotti has instilled in his squad, the side transition into a 4-1-4-1 and a 4-4-2. The quality needed to pull this off requires teammates who understand each other's roles and movements. The likes of a very capable James Rodriguez, transitions from the attacking RW, to an RM who is more defensive-minded and plays on the counter when needed to do so.
Where is Rodriguez coming from?
The Everton board decided to pay the reported £200,000-week wages of a star player – James Rodriguez. To secure his move from Real Madrid on a free transfer. James and the manager Carlo Ancelotti had previously worked together. When Carlo bought James from Monaco following the award of the Golden Boot at the 2014 World Cup by James. He spent six seasons at Real Madrid, including the loan spell he had at Bayern Munich under Carlo Ancelotti again.
During his time in the Los Blanco's jersey, he scored 37 times and assisted 42 times in just 125 games. But was deemed surplus to requirements. And was shipped to Bayern. Where he scored 15 goals and had 20 assists in the 18/19 season.
Why was he bought?
James was bought in on a free transfer; to elevate Everton's stale and mediocre side with his touch and passing abilities. It's too early to judge him on just 6 appearances. But he has scored 3 times and assisted 3 times in those 6 starts under Carlo Ancelotti. So, the early signs are very promising.
What has he done so far?
James was bought in on a free transfer; to elevate Everton's stale and mediocre side with his touch and passing abilities. It's too early to judge him on just six appearances. But he has scored three times and assisted three times in those six starts under Carlo Ancelotti. So, the early signs are very promising.
Just one player in the whole division has created more than Rodriguez's chances (17). And for more context – no Everton player created more than 17 chances in the last 14 games of last season, prior to his arrival.
Everton has already scored 14 goals in the opening six games; James has been involved in the vast majority of them. He has three himself, three assists. And also leads the whole Premier League in secondary assists (4) – pass before the assist- making him involved in 10 of the 14 goals scored by Everton this season.
He is averaging 1.93 assists per game with 1.03 averaged from open play, (per OptaJoe). James' left foot from RW allows the switch of play from the right flank to Lucas Digne and Richarlison on the left flank. To execute this, it shows the excellent ability James has to switch play with ease.
The perk of having a luxury player on the wing, causes opposition to defend heavily on that wing. Leaving the other flank open for Everton to expose and attack. With the opposition going in bulk to defend and dispossess James. It allows him to do his trademark cross to switch the play.
Why is he different and unique?
James' has a unique rhythm. Which was first on a show for the whole world to see at the 2014 World Cup. He takes one touch to take the ball onto his preferred foot. Then another to get comfortable on the ball, then he makes the killer pass.
At Bayern, he played in a midfield three of Thiago and Javi Martinez, where he averaged 3.4 key passes per game. He always keeps an average of 10 meters away from the opposition defense, this allows the defending team no chance to get to him before he takes his two touches and makes the pass. He takes just 3.8 seconds to take those touches and make the pass each time. The benefit of keeping space allows James to get past low blocks and tightened defenses to find the usual goal scorers.
His natural ability to choose the pass even before he gets the ball. Is one-of-a-kind and the same can be said for his chest control. Everton can definitely benefit from space. Control, touch, and killer pass he has to offer. With the insane aerial ability of the no.9 – Dominic Calvert-Lewin who bagged eight goals in six games at the start of the 2020/21 season.
How Everton are shaping up for the future.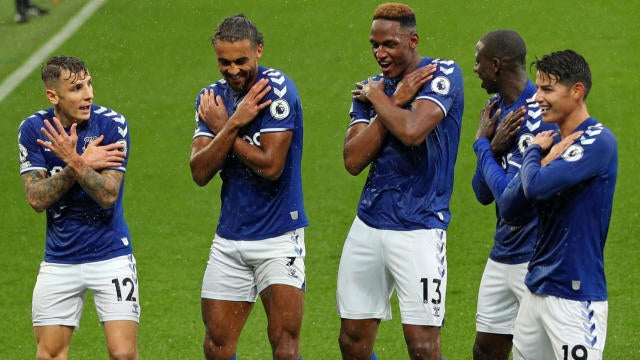 Everton can build on this versatile and tactical flexibility, with the numerous luxury players. And a world-class manager, they can go and achieve big things such as European football especially with the help of star player – James Rodriguez.
An article by Ibrahim from @HaleEndArsenal, find more great work and stories on EDFsports!